Feedback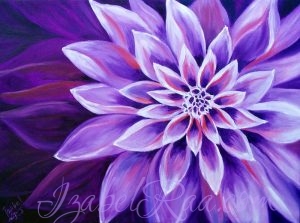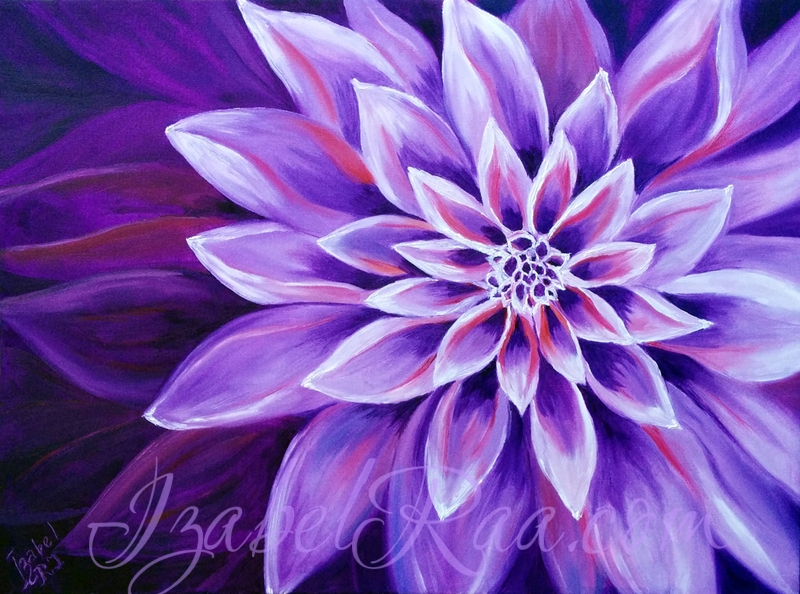 "When I first saw this painting, I right away understood that it was created for me. There was so much of what I was missing in my life in it, that even a photo of the painting started creating miracles. To keep the energy flow going I offered to buy this magic artwork from Izabel, and she kindly agreed.
Since then the feminine power I dreamt of came to my life in abundance: powerful, tender, beautiful, and warm. I can not thank Izabel enough for this little miracle she created with her brush.
Please keep going, keep painting music on canvas. You are blessed."
Boris @netocrat Khodorkovsky, Odessa, Ukraine
"Когда я впервые увидел эту картину, я сразу же понял, что она создана для меня. В ней было так много того, чего мне не хватало в жизни, что даже фотография картины начала создавать чудеса. Чтобы поддержать движение потока энергии, я предложил Изабель купить у нее это волшебное произведение искусства, и она любезно согласилась.
С тех пор женская сила, о которой я мечтал, пришла в мою жизнь в изобилии: мощная, нежная, красивая и теплая. Я очень благодарен Изабель за это маленькое чудо, которое она сотворила своей кистью. Пожалуйста, продолжай, создавай музыку на холсте. Ты благословлена."
Борис @netocrat Ходорковский, Одесса, Украина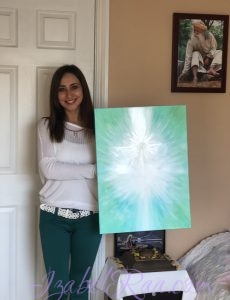 "From the painting emanates an unbelievably powerful energy and light that stops me in adoration. An incredible flow of power and support! As if my angels are next to me, they look and say that everything will be fine! I sense their message with all the fibers of the soul. A powerful stream of love and light is a surreal force. A force which exists in me too! As if this picture calls me to open, or rather, even remember that these forces are inside of me! Incredibly powerful flow of energy from all sides, and especially from above. When I'm looking at the painting, such a living stream of energy runs inside of me, through all my being, through all my chakras. I am very grateful for the fortune that brought me to you at this moment in my life, when I needed more support than ever before. Thank you very much, thank you for appearing in my life! 💖😘
✨🌈🌷
🔮💎💐"
Irina Vyazmina, Huntington Beach, California, USA
От картины исходит такая нереально-сильная энергетика и свет, что я налюбоваться не могу. Невероятный поток силы, помощи и поддержки! Как будто мои ангелы находятся рядом со мной, смотрят и говорят, что все будет хорошо! И я ощущаю их послание всеми фибрами души. Мощный поток любви и света просто нереальной силы. Силы, которая есть и во мне! Как будто меня эта картина призывает открыть, а, скорее, даже вспомнить, что эти силы заложены и во мне! Невероятно мощный поток энергии со всех сторон, и в особенности сверху. Смотря на неё, внутри меня пробегает такой живой поток энергии, через всё моё существо, через все мои чакры. Я очень благодарна судьбе, что она привела меня к тебе именно в тот момент моей жизни, когда мне больше всего нужна была поддержка. Спасибо тебе огромное, спасибо тебе за то, что ты появилась в моей жизни! 💖😘
✨🌈🌷
🔮💎💐
Ирина Вязмина, Huntington Beach, California, USA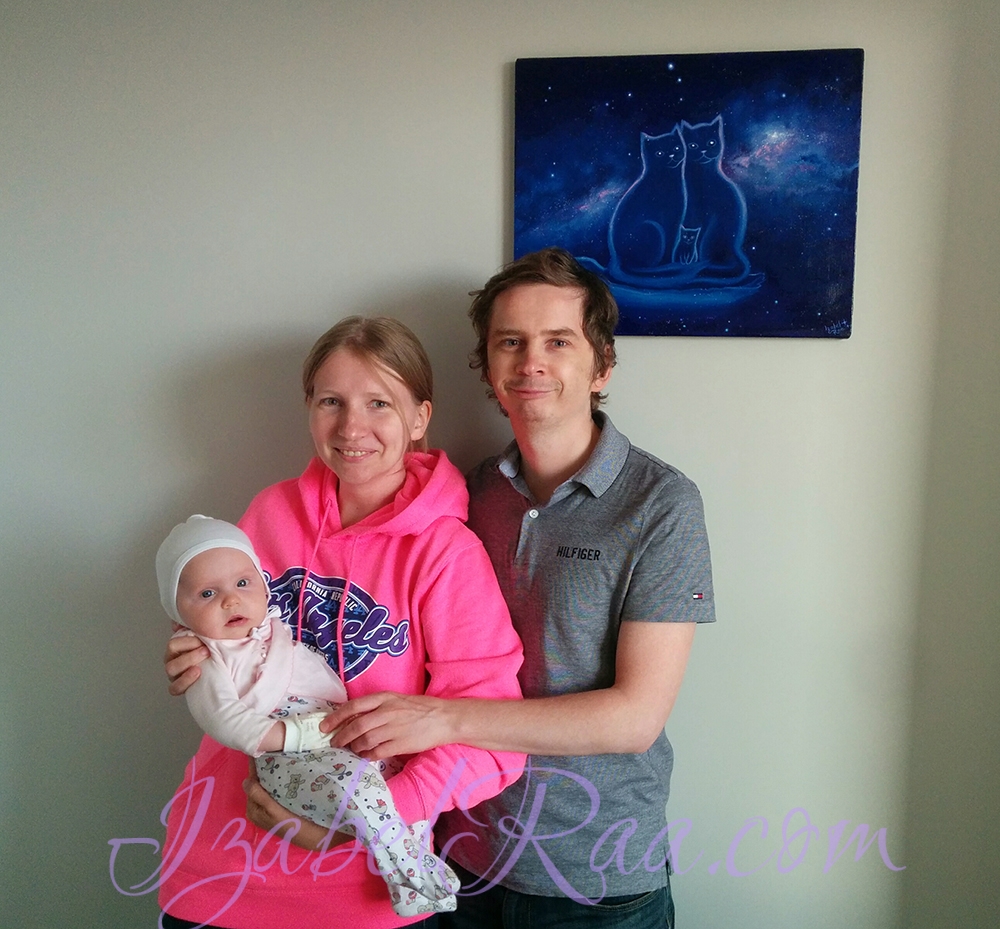 Izabel was given initially a very difficult task – to paint a family portrait, allegorical of course, with two loving cats and their kitten. How brilliantly she managed to cope with everything! And the image of the Universe and our galaxy, as always, is beyond praise. For our family, this is a very special work – creation, symbol of eternal love and deep connection of our souls.
From Andrew & Kate & Arina, Moscow, Russia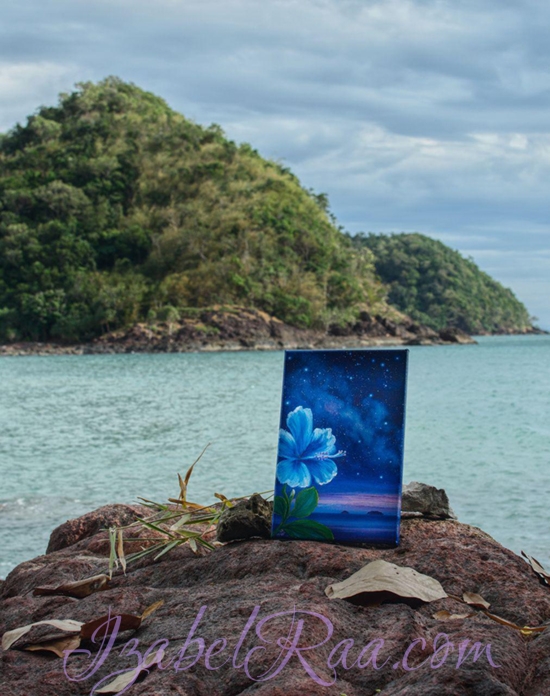 "Once I take the painting in hands, the first feeling that repeats is an astonishment. I'm surprising how weightless the painting is. And this is an extraordinary feeling that it is just airy. At first I thought that this feeling will pass away. But taking the second time, the third, and further times, I was just surprised, as if I had taken it for the first time. And recently, I understood why this feeling arises in me, it is no longer a tactile sensation, this is the feeling inside of me. This painting is so deep, there is a whole Universe in it, the whole beach is there, the whole sea is there, all the flowers and all the sunsets are there, all the clouds, and the whole Milky Way, our home. And all this should weigh a lot, and when I take this painting in hands, I am surprised again at its lightness, and this lightness makes me also light and weightless; my body stands on the ground, but I lift off and fly there. I'm becoming the same weightless and a little ghostly 😊"
Alex, Koh Chang, Thailand
*all photographs – the artworks of Alex made on the island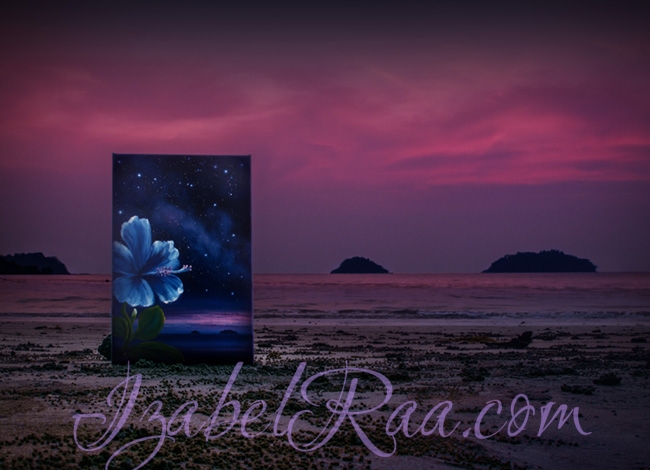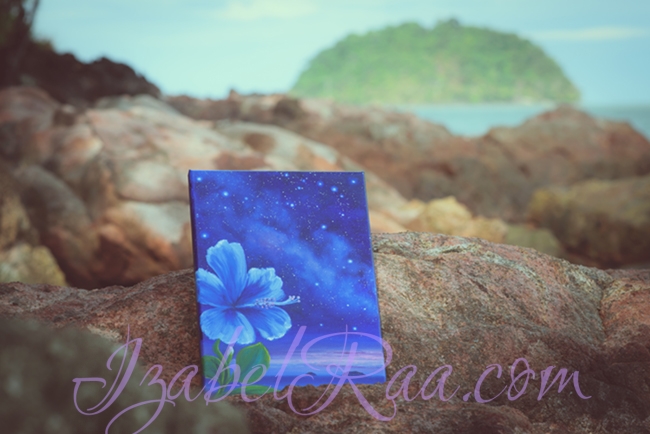 Original oil painting "Pleiades"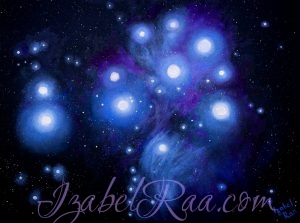 "I got this painting of Pleiades ("Стожары") from Izabel during a very special period of my life when I started working with my awareness and transpersonal development. The words that came to me when I saw it first time were "There are many ways" ("Путей много"). Later contemplating on this painting, the message shaped further: "All the practices — meditation, therapy, healing, generosity; all the people whom I encounter on this path — are sources of light that illuminate places in my soul that I forgot, turned away from, and abandoned.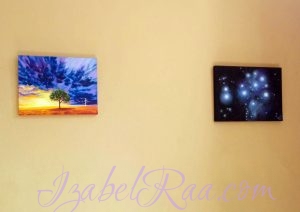 They cast light — at times mellow and caring, at times fierce — for me to awaken from my microsleep lapses, embrace and reincorporate those blind spots of reality back into my view. Whatever hard emotions come, the eternal light of the Universe continues to illuminate the space and showing paths. The light is available to one whose eyes are open."
Dmytro L, San Francisco, California, USA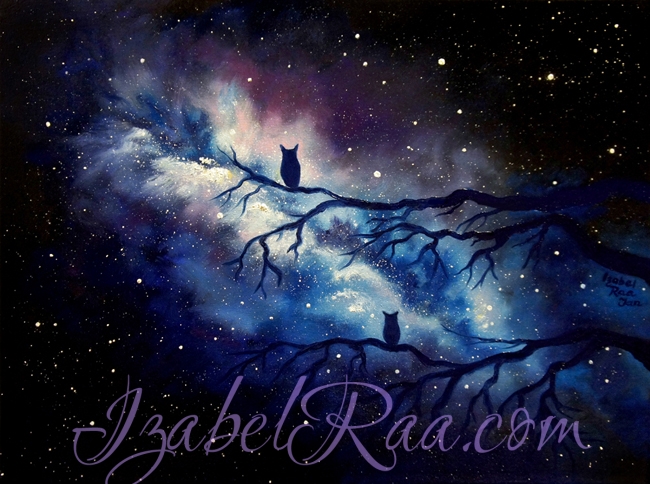 "Two owls are resting in the space.
Harmonic souls with cosmic grace.
They've come from dark side of the moon.
After a break they're living soon
Directly to the sunny side
That always shines from deep inside."
Roman Rusavskiy, Moscow, Russia / M31, Andromeda Galaxy 🙂

Giclée on canvas of the original oil painting "Iris"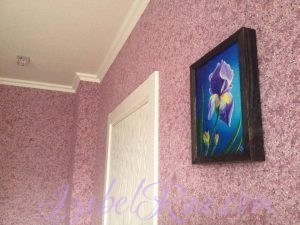 "I am a big fan of Izabel's art, each painting is a doorway to a sacred spot in the Universe which is most desired, most longed for.. We are stuffed in big cities with all this pressure of day-to-day life. Not only are we unable to locate such doorway by ourselves, we also forget we have been looking for.. And all of a sudden you see Izabel's painting which is right there waiting to catch you eye.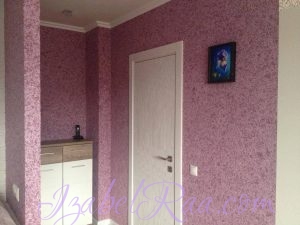 Right at that moment when you are close to despair, tired like hell, angry or frustrated.. It is your own door to light, joy, serenity, ecstasy – anything that you needed most, without realizing it. Izabel's talent is in knowing infinite number of these doors.. she opens them easily and playfully, one by one, with each new work of art. You never know which key she will choose next – color, form or texture.. This wonderful jingling music of her keys make you warm, confident and suddenly open to the world and all its wonders.. I am always waiting for Izabel's each new painting – unpredictable, infinite, full of fresh air and pure deeply rooted joy.. Even writing about these wonders makes me feel happy, let alone having one of them on the wall at home.."
Anna Solotova, Moscow, Russia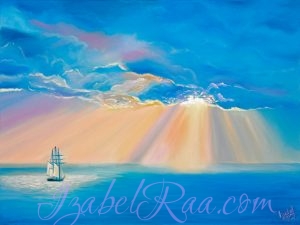 "You helped me to find the way to myself. Now I can speak to the other "me" with respect. To the boy whom I can ask what he does not like in an adult guy whom he had become.
You created a painting by my answers to your questions. Well, it's the "commissioned painting". Your questions are precious. Thank you for them."
Aleksey Sirotin, Moscow, Russia.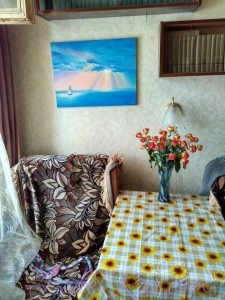 Ты помогла мне найти путь к себе. Я сейчас могу поговорить с уважением с другим собой. С тем мальчиком, которого можно спросить, что ему не нравится с тем взрослым, которым он стал.
Ты создала картину по моим ответам на твои вопросы. Что ж, это «картина на заказ». Твои вопросы бесценны. Спасибо тебе за них.
Алексей Сиротин, Москва, Россия
Aluminum print of the original oil painting "Galactic Journey"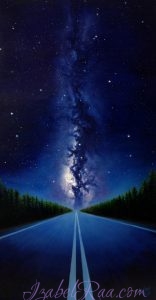 "Because of your wonderful depiction of the stars of the Milky Way and their brilliance at night, set beyond a familiar highway on earth, I find the image inspiring and comforting to me at the same time. There are some other reasons why I chose this piece for myself (or why it chose me?!?) that I will share with you later. But let me just say now that you are a VERY gifted artist, and I am grateful to you for having made this beautiful work to display at Yester Day's Fine Art Gallery!
I would also like to add that your image of Milky Way in this piece gives me faith (as do all your starlit landscapes) that there IS something good in the darkness of night, and that goodness you have revealed to me in your artwork always give me faith to carry on."
Annie Rabago, The Owner of Yester Day's Gallery, Jerome, Arizona, USA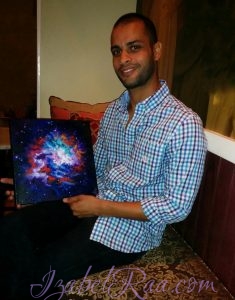 "Thank you for being you and allowing us to see who you really are through your beautiful paintings. I am in love with my painting and once I saw it, I felt it inside my chest. As if the painting says me, "I'm yours…" 🙏❤️ thank you."
Hassan Hefny, Hollywood, California, USA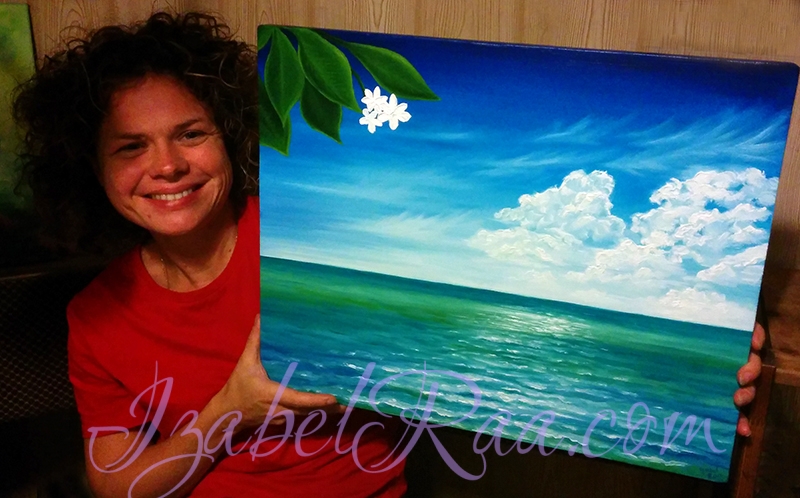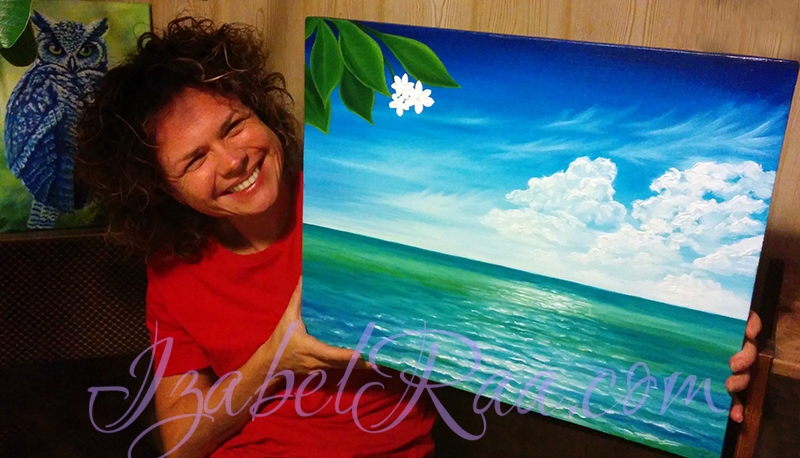 Thank you so much!
The painting is wonderful! The first thing I felt was the tenderness coming from the painting. I really love the sea and now it's always with me. When you look at the painting, you could imagine that you look out of the window, and around… the SEA, and it's very close.
You can look at it endlessly …… ommmmmmmmmm
Elena Makarova, Moscow, Russia
Спасибо тебе огромное!
Она чудесная. Первое, что я почувствовала, – это нежность, идущая от картины. Я очень люблю море и теперь оно всегда со мной. Ты смотришь на картину и представляешь, что выглядываешь из окошка, а кругом – МОРЕ и оно близко.
На нее можно смотреть бесконечно……омммммммммм
Елена Макарова, Россия, Москва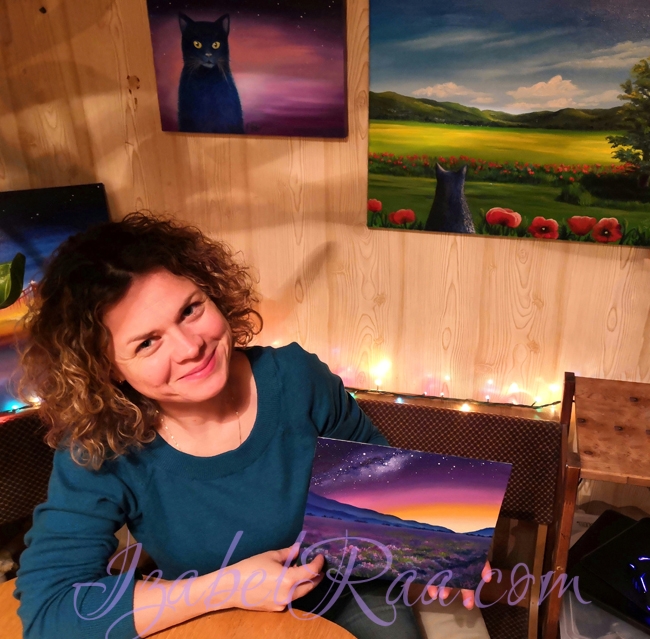 Thank you! I am happy that this painting is with me now. When you look at the painting, you understand that it is huge. How did you manage to make it like that?…. 😊 I'm still surprised. There is a huge flowering field, and the life and serenity at the same time. Sunset on the horizon, you can look at it endlessly… the sun will not disappear, it has stopped on the painting and it is wonderful. The mountains are huge and, as usual, point to the borders, but as soon as you cross them, and there are no more borders, and high in the sky, there is always a portal waiting for me, where, upon entering, Everything is Possible…
Elena Makarova, Moscow, Russia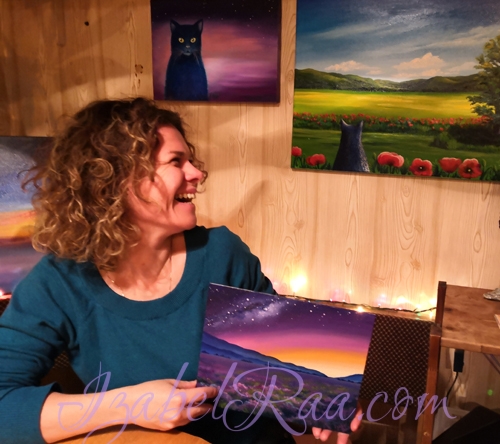 Спасибо тебе! Я рада, что теперь эта картина со мной. Смотришь на нее и понимаешь, что она огромная. Вот как тебе удалось её сделать такой?….😊 до сих пор удивляюсь. Здесь и огромное цветущее поле, там и жизнь, и покой одновременно. На горизонте – ЗАКАТ, на него можно смотреть бесконечно… солнце не скроется, оно застыло и это чудесно. Горы – огромны и, как обычно, указывают на границы, но стоит их перейти – и границ больше нет, а там, высоко в небе – всегда ждет меня портал и, войдя, возможно Абсолютно всё…
Елена Макарова, Россия, Москва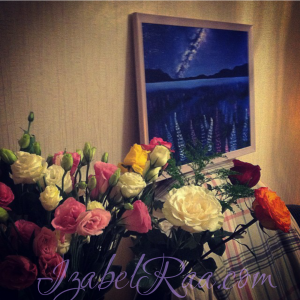 "Seeing this painting, the first few seconds I was stunned with the feeling of astonishment. Almost one in one, that painting repeated the landscape in Ladakh in Northern India, on the Tso-Moriri lake, located in the heart of the Himalayas, at an altitude of 4500 m. Some time before the appearance of this painting in my life, I experienced a rather deep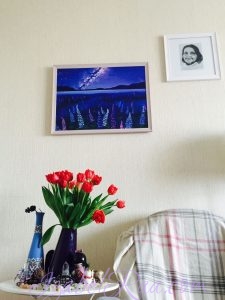 experience of the interaction of my human consciousness with the Cosmos and the Universe on the journey through Ladakh … This painting is incredibly coincided with what I've seen and felt that night .. These violet and pink shades enhance the memory and remind me of that exchange and special power of the Himalayas and of the secret mystical corners of nature .. And that painting has this Magic .."
Nadezhda, Yoga Teacher and Founder of Taissa Wong Jewelry , Moscow, Russia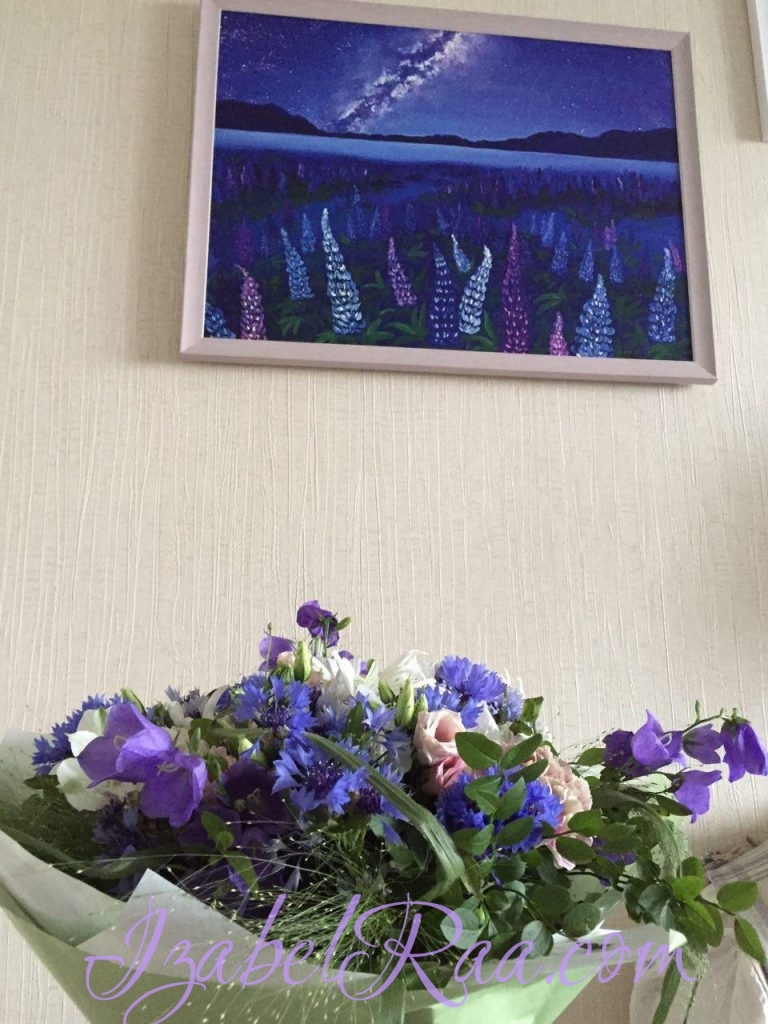 Увидев эту Картину, первые несколько секунд я обомлела от удивления. Почти один в один она повторяла пейзаж в Ладакхе в Северной Индии, на озере Тсо-морири, находящееся в сердце Гималаев, на высоте 4500м. За некоторое время до появления этой картины в моей жизни я пережила в путешествии по Ладакху довольно глубокий опыт взаимодействия моего человеческого сознания с Космосом и Вселенной… Эта лунная ночь навсегда изменила меня тогда.. Картина невероятным образом совпала с тем, что я видела и чувствовала той ночью.. Эти фиолетовые, розовые оттенки усиливают воспоминание и напоминают о том обмене и особой силе Гималаев и затерянных мистических уголков природы.. И у картины есть эта Магия..
Надежда, преподаватель йоги и создатель уникальных украшений из натуральных камней Taissa Wong Jewelry , Москва, Россия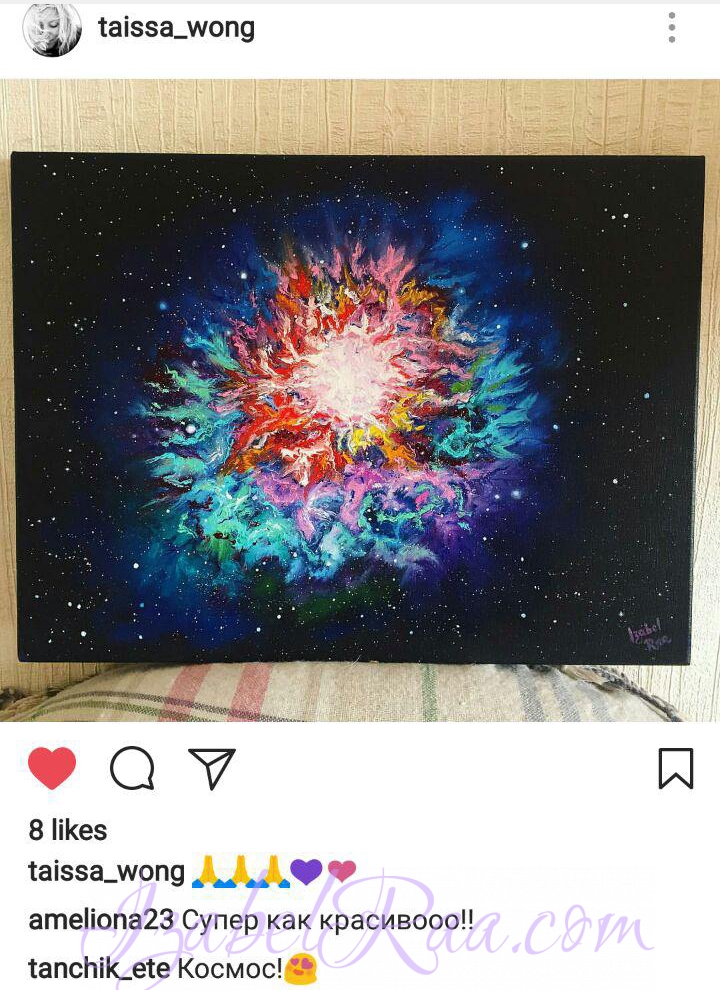 "This painting is special. It appeared as an opportunity to see myself from the perspective of cosmic laws, powers and energies inside of me .. I was going through a long and complicated way of returning to Myself. The bright side of me gained it strength slowly, collecting lost particles of my spirit like a pollen in the universe… The dark side was difficult to change, through doubts, fears and other fellow travelers who joined the consciousness after serious spiritual cataclysms. The author of the painting, through meditation and tuning on me, depicted a magical cosmic cloud. The image of person as energy, like a picture of aura, the imprint of a state or filling of the spirit,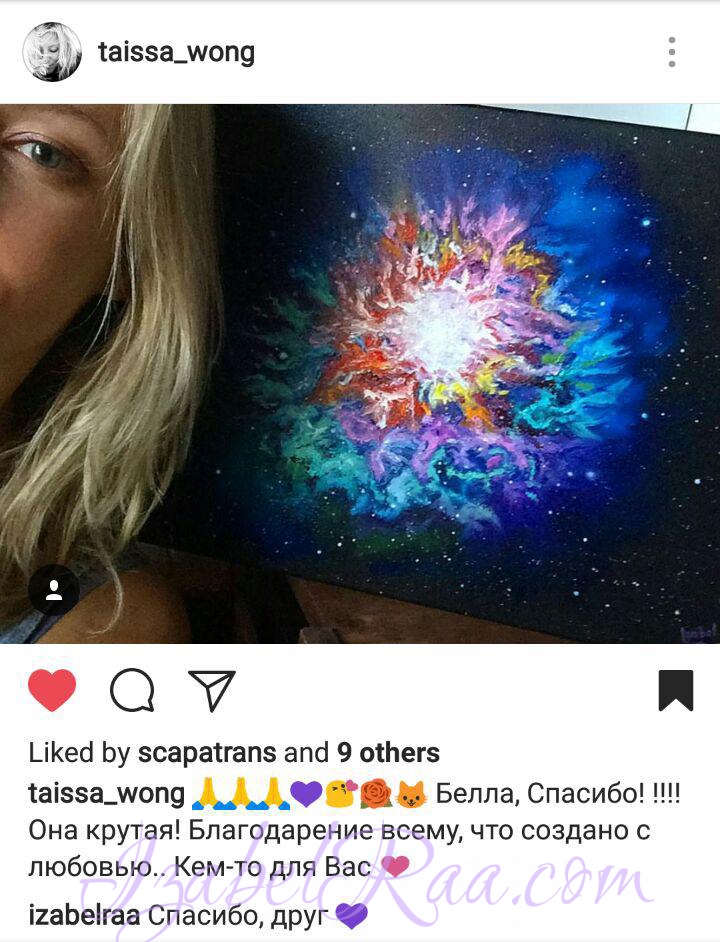 the primordial and the current. This helps during periods of recovery and maintains the balance of the necessary color "tones" in us .. Initially, I really like emerald, turquoise colors in this cloud .. Prana, combined with solar energy .. And red color, shades, in the center, like the ancient memory-core of my nature, of love that gives away everything that it has ..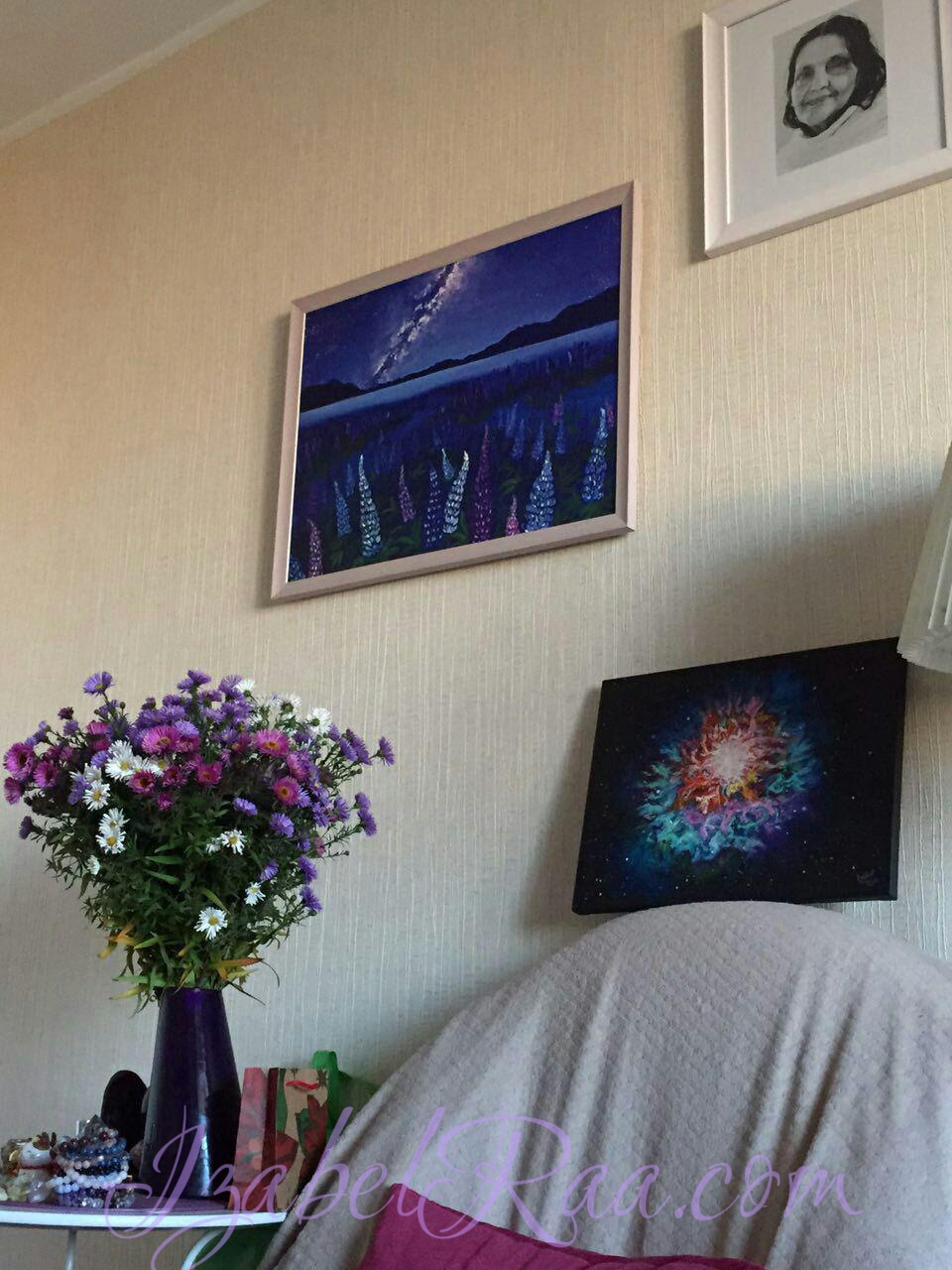 Shining from inside .. about the coming dawn, the precious moments that the consciousness experiences in its highest states … Everything inside .. No color contradicts the other, does not argues, does not intercept attention .. I often look at that cloud and fill up with a wonderful multicolored blessings of cosmic harmony from the painter. Namaskaram"
Nadezhda, Yoga Teacher and Founder of Taissa Wong Jewelry, Moscow, Russia
Эта картина особенная. Она появилась как возможность увидеть себя со стороны космических законов, сил и энергии, заложенной во мне.. Я проходила длинный и сложный путь возвращения к самой себе. Светлая сторона набирала силу медленно, буквально как пыльцу собирая во Вселенной потерянные крупицы духа…Темная сторона поддавалась изменениям трудно, сквозь сомнения, страхи и прочих попутчиков, присоединившихся к сознанию после серьезных душевных катаклизмов. Автор картины с помощью медитации и настройки изобразила волшебное космическое облако. Изображение человека как энергии, подобно рисунку ауры, отпечаток состояния или наполнения духа, изначального и текущего. Это помогает в периоды восстановления и поддерживает в нас баланс нужных цветовых "нот".. Изначально мне очень по душе изумрудные, бирюзовые цвета в этом облаке.. Прана, соединенной с солнечной энергией.. И красный цвет, оттенки, в центре, как древняя память-ядро о моей природе, о любви, что отдает все без остатка.. Сияние изнутри.. о происходящем рассвете, о драгоценных моментах, которое переживает сознание в наивысших состояниях… Все внутри.. Ни один цвет не противоречит другому, не спорит, не перехватывает внимание.. я часто подолгу смотрю на это облако и наполняюсь чудесным многоцветным благопожеланием космической гармонии от автора. Намаскарам
Надежда, преподаватель йоги и создатель уникальных украшений из натуральных камней Taissa Wong Jewelry, Москва, Россия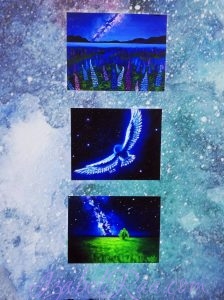 "After finding Izabel's work, I knew I wanted two of her pieces. I contacted her through email and since day one she has been incredibly thoughtful, detailed, and generous. She worked with my budget and found an amazing printer in my city so that I could pick up the pieces. She also was kind enough to offer the choice to add two more pieces because there was space for it. She was always kind and patient through the entire process and at the end of it, I received the most beautiful galactic jewels.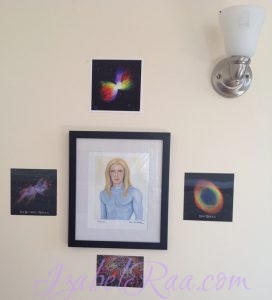 They are even more incredible in person. Like little portals to another world. The rich indigo, violet, and green galaxy-scapes were vivid and ethereal. The Owl totem made of stars feels empowering to sit with. The shooting star over an otherworldly tree is undoubtedly alive. The field of flower is an absolute dream. And My partner loved the Rainbow Nebula. Truly an awe-some experience."
Norma Sepenuk, Artist and Founder of Mother Make Me, New York, USA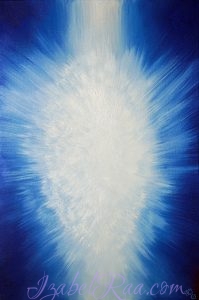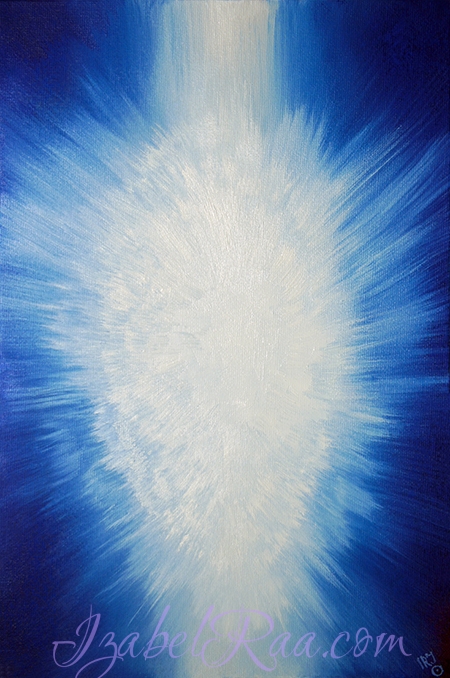 "Thank you so much💖! The painting is beautiful as always. Unprecedented feeling of great power of light. These feelings impossible to express. You just feel it… light, protection, power, beauty…"
Elena Makarova, Moscow, Russia
Спасибо тебе большое💖! Она как всегда прекрасна. Небывалое ощущение огромной силы света. Эти чувства не передать: ты просто чувствуешь… свет, защиту, мощь, красоту…
Елена Макарова, Россия, Москва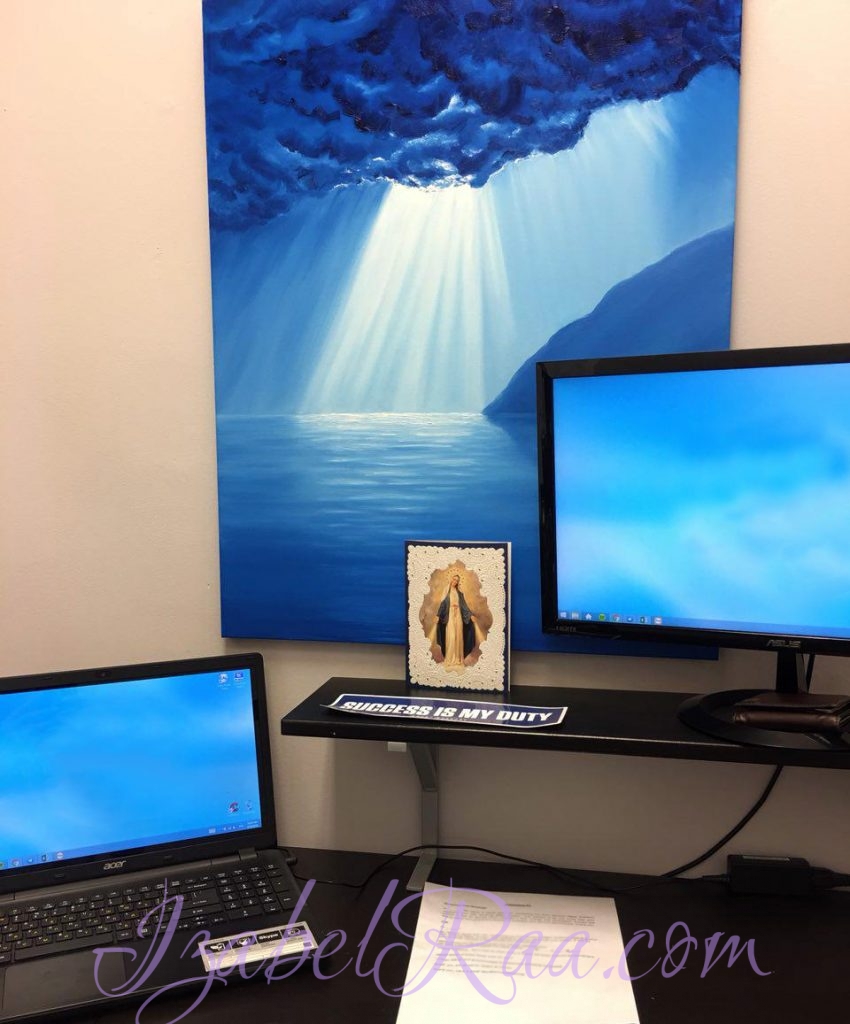 "I've been following Izabel's art for some time before purchasing a painting and I was very excited and happy to know that her paintings are often created during auspicious times (special days and times: Halloween, full moon, blue moon, equinox, solstice, etc.) and the uniqueness of time, place and circumstances of paintings' creation makes them unique also in terms of their energy and the vibrations that emanate from them.
When I moved to Los Angeles, I had a job invitation from the big water purification company. It coincided exactly with the time when entire LA county area was covered with fires and it was windy and dry as usually and many suffered from those fires, and even more animals lost their homes, and at that very moment it felt like everyone were hoping for a miracle and only rain could be that miracle.
Right at the time of those wildly spreading fires Izabel has painted her painting, "Water Prayer". When I've seen that painting for the very first time (it wasn't even live but on the screen of my phone), I felt that vibe so strongly that didn't doubt even for a second that I have to own it, despite the fact that I just started my new job and didn't have enough funds at that moment. But I'm so thankful to Izabel that she was very flexible and made this possible even in my tough situation.
I haven't regretted it even once because the value it brought to my life is not measurable in terms of finances. The mood of the time when it was created is so strongly imprinted in this painting and it inspires me tremendously in my work as a water specialist. It actually reminds me about the importance of water in our lives at the times when I feel down and not much motivated at work. But it also has its strong spiritual background and hidden meaning, just like any and every other Izabel's artworks.
What I really like about her artworks is that they are very rich in words and meanings, because everyone sees something for oneself there. Besides increasing the importance of water that I feel through this painting, I do also feel it's spiritual message to myself personally.
I like everything this painting gives me, all the hidden meanings embedded there and I consider this painting a unique tool that helps me. At difficult times just one glance at this painting is enough to tune myself into better state of mind. And I'm looking forward to have Izabel paint a commissioned painting for me. I'm so excited to see the paintings that would be made by my request exclusively because I know for sure that she can guess the settings someone needs at their current evolutionary stage, and embeds it into the painting.
I love my painting. Thank you :)"
Yevgeny Gordeyev, Los Angeles, California, USA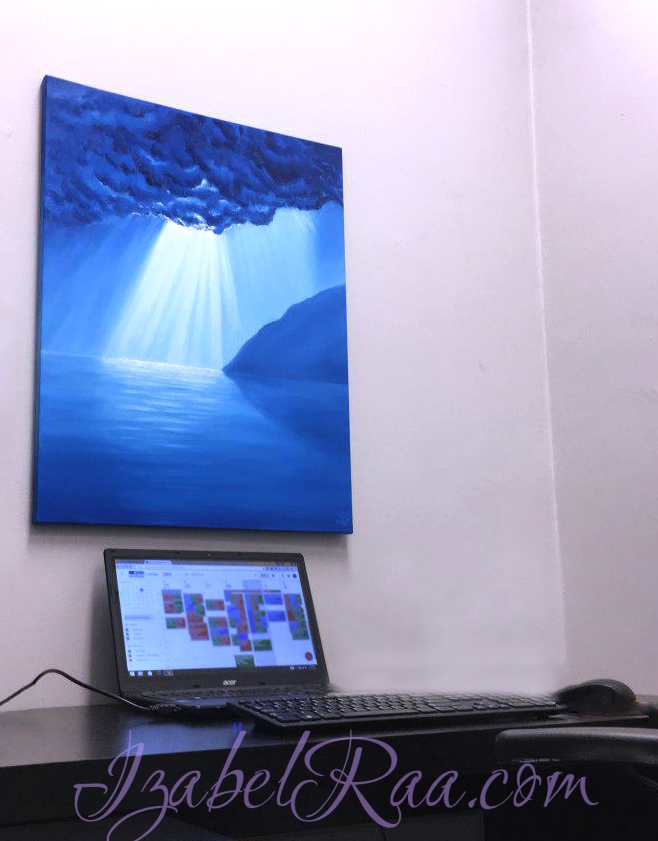 Я некоторое время следил за творчеством Изабель, прежде чем купить картину, и был очень взволнован и рад узнать, что ее картины часто создаются в благоприятные времена (особые дни и времена: Хэллоуин, полнолуние, "голубая луна", равноденствие, солнцестояние, и т. д.), а уникальность времени, места и обстоятельств создания картин делает их уникальными также с точки зрения энергии и вибраций, которые исходят от них.
Когда я переехал в Лос-Анджелес, у меня было приглашение на работу от большой компании по очистке воды. Это точно совпало с тем временем, когда вся территория округа Лос-Анджелес была покрыта пожарами, и как обычно, было ветрено и сухо, и многие пострадали от этих пожаров, и еще больше животных потеряло свои дома, и в тот самый момент казалось, что все надеялись на чудо и только дождь мог быть этим чудом.
Как раз во время этих дико распространяющихся пожаров Изабель написала свою картину «Молитва воде». Когда я впервые увидел эту картину (даже не вживую, а на экране моего телефона), я почувствовал эту вибрацию настолько сильно, что ни на секунду не сомневался в том, что я должен ее приобрести, несмотря на то, что я только начал свою новую работу и у меня не было достаточно средств на тот момент. Но я так благодарен Изабель, что она пошла мне навстречу и сделала это возможным даже в моей сложной ситуации.
Я ни разу не пожалел об этом, потому что ценность, которую картина принесла в мою жизнь, не поддается измерению с точки зрения финансов. Настроение того времени, когда она была создана, так сильно запечатлелось в этой картине, и это чрезвычайно вдохновляет меня в моей работе в качестве специалиста водных систем. Это на самом деле напоминает мне о важности воды в нашей жизни в то время, когда я чувствую себя подавленным и слабо мотивированным на работе. Но также картина имеет сильный духовный подтекст и скрытый смысл, как и любое другое произведение Изабель.
Что мне действительно нравится в ее работах, так это то, что они очень многословны и многогранны, потому что каждый, смотря на ее картины, видит что-то свое. Помимо того, что картина поднимает для меня важность воды, я также чувствую мощное духовное послание, адресованное лично мне.
Мне нравится все, что мне приносит эта картина, все скрытые смыслы, заложенные там, и я считаю ее уникальным индивидуальным инструментом, который помогает мне. В сложное время одного взгляда на эту картину мне хватает, чтобы снова ощутить нужные настройки и лучшее состояние души. И я с нетерпением жду, чтобы Изабель нарисовала для меня картину на заказ. Я радостно предвкушаю, как увижу эти картины, которые будут созданы эксклюзивно по моей просьбе, потому что я точно знаю, как тонко она угадывает, какого типа настройка нужна человеку, что нужно вложить в картину на данном этапе его эволюции, и встраивает это в картину.
Я люблю мою картину. Спасибо 🙂

Евгений Гордеев, Лос-Анджелес, Калифорния, США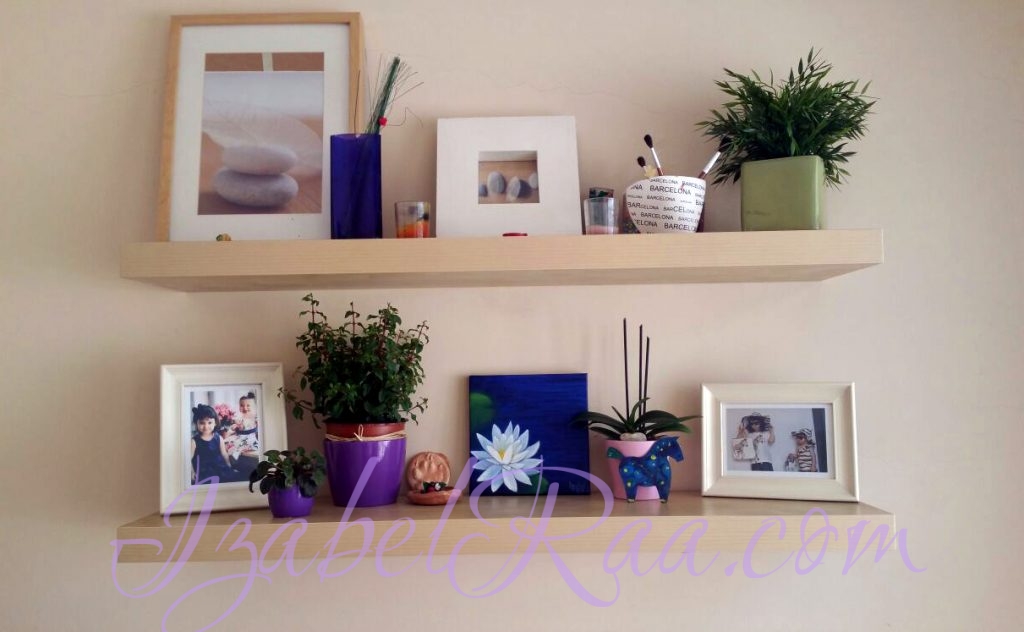 "The painting lives in our house for two years now. Yes, it lives, because it is a living being, and not an object of interior. It has its own pulse, sometimes barely perceptible, and sometimes quite noticeable and audible. The painting emits light and warm. It is located in our dining room and it seems when we are going to have lunch or dinner, any quarrels or confrontations immediately stop, even between the children. I observed for the painting for a long time and tried to understand it, and it seems at last I felt a subtle vibrato emanating from the painting: purity, light and tranquility… But most of all it is purity and silence, but not ominous, but creative. Silence prior to milliseconds before Creation…"
Ani, Madrid, Spain
Original oil painting, energy portrait "The Will for Life"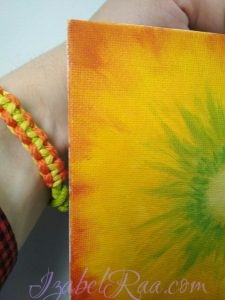 "It is unlikely that there could be a person, except me, who could see in this portrait a documentary photograph. But for me it looks exactly like that. Now I'll tell you.
Once in one shop I found three laces, hanging next to each other. Orange, yellow and lime-green. And I so liked this combination of colors! Optimism, liveliness, immersiveness in the vortex of fruitful activities, joy and excitement. Well, just an explosion of feelings. I wanted to weave a bracelet for myself with those colors.
At that time, Izabel offered to order an energy portrait painted by her. And I was so curious how she sees me, that I could not resist the temptation. We made arrangement. And once I get a text message from her that she is going to paint my portrait and asks me to tune in and to not think.
Time goes by, the attention starts to fly off. From time to time thoughts go to the bracelet that I want to make and how it will look like. I try to switch attention back, but it's very hard. And then I get the message from Izabel:
"You are so colorful! So much orange and yellow :)"
(.. !!!!! .. But… How did you know? !!!!)
"Uh … You know, these colors chased me the whole last week …"
"And green did not chase you?"
"…👀 "
"Lime-green", Izabel clarifies.
"Exactly…"
I was stunned. How could she see these colors so clearly?!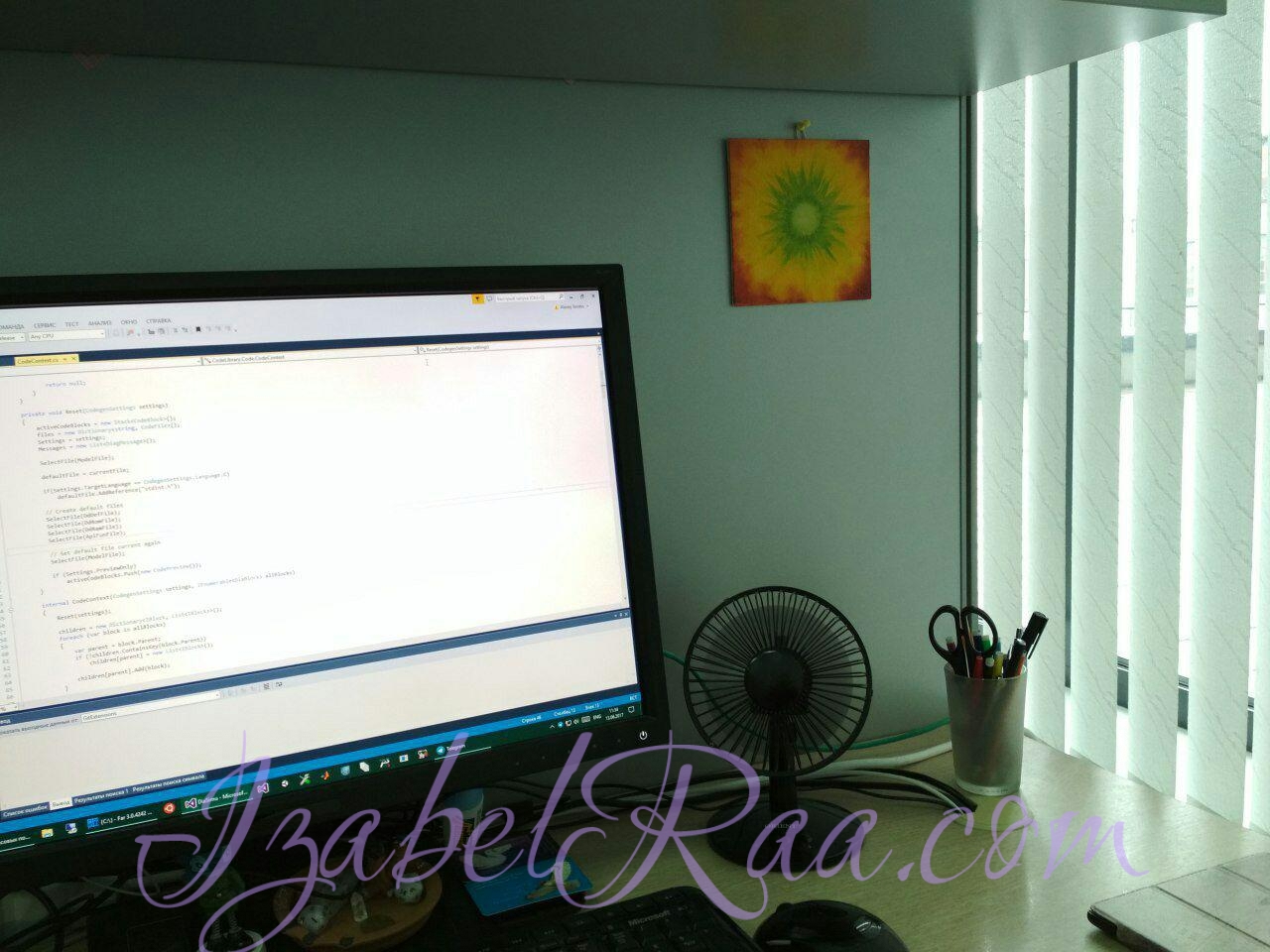 I experienced rapturous astonishment and joy, as from a gift that I really wanted, but could not believe that it was possible …
This autumn in Moscow was especially gloomy. And the first half of winter was not better. If not this painting, I might not have kept that summer feeling of joy of life. The lime-green sun illuminates me with a joyful orange-yellow light. And I smile at it :)"
Alexey Sirotin, Moscow, Russia
Вряд ли найдется человек, кроме меня, кто увидит в этом портрете документальную фотографию. Но для меня он выглядит именно так. Сейчас расскажу.
Как-то в одном магазинчике мне попались три шнурка, висящих рядом. Оранжевый, жёлтый и lime-green. И вот до того мне понравилось это сочетание цветов, что сложно передать. Оптимизм, живость, вовлечённость в водоворот плодотворных дел и радость от нее, кураж. Ну просто взрыв чувств. Захотелось сплести себе браслетик из таких цветов.
Практически одновременно с этим Izabel в facebook предложила москвичам заказать energy portrait. И так мне стало интересно, каким она меня видит, что устоять перед соблазном я не смог. Мы договорились. И вот в один прекрасный вечер я получаю сообщение в мессенжере от нее о том, что она собирается рисовать мой портрет и просит настроиться и не думать ни о чем постороннем.
Время идёт, внимание начинает соскакивать. Время от времени в голове проносятся мысли, как будет выглядеть тот самый браслетик, что я хочу. Пытаюсь переключаться обратно, но получается, честно говоря, не очень. И тут приходит сообщение от Изабель:
– А ты у нас цветной получаешься. Столько оранжевого и желтого..:)
(.. !!!!!.. Но… Откуда ты знаешь?!!!! )
– Эээ.. Ты знаешь, эти цвета преследовали меня всю прошлую неделю…
– А green не преследовал?
– … 👀 ?
– Lime-green, – уточняет Изабель.
– Именно…
Я был ошеломлен. Как ей удалось так точно увидеть цвета?!
Я испытывал восторженное удивление и радость, как от подарка, который очень хотел, но не верил, что это возможно…
Эта осень в Москве выдалась как-то совсем уж хмурая. Да и первая половина зимы не лучше. Если бы не эта картина, я мог бы и не сохранить то летнее ощущение радости жизни. Салатовое солнце освещает меня задорным оранжево-желтым светом. И я улыбаюсь ему..:)

Алексей Сиротин, Москва, Россия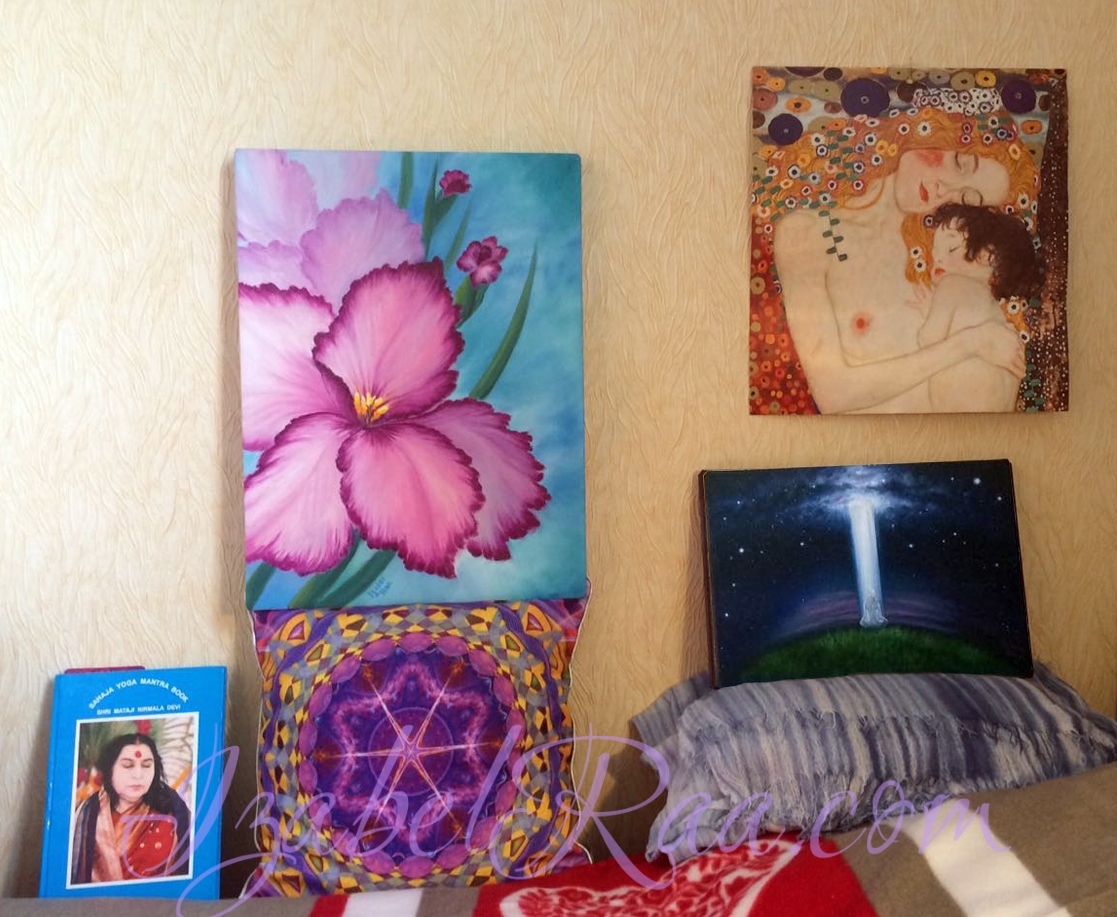 "Both paintings are always next to me when I'm in Moscow .. very close to my bed. I practice meditation almost every day, and these paintings help me very much to maintain a pleasant relaxation and immersion in the meditative state.
The painting with a flower associates for me with a lotus, which is a symbol of harmony and love. Looking at this flower I seem to dissolve into the tenderness of the shades and colors that I really like .. Purple is one of my favorite colors.
The painting "Connection with Higher Power" helps me to look at myself from the outside, when I can step back from all worldliness and devote my time to God and the Divine and the beauty of the Universe. I really see myself sitting in a lotus posture among nature, like a part of it. I feel the fresh and gentle vibrations from every single blade of grass and every single tree, I contemplate the worlds and feel myself as a part of the boundless Universe."
Julia Pijk, Moscow, Russia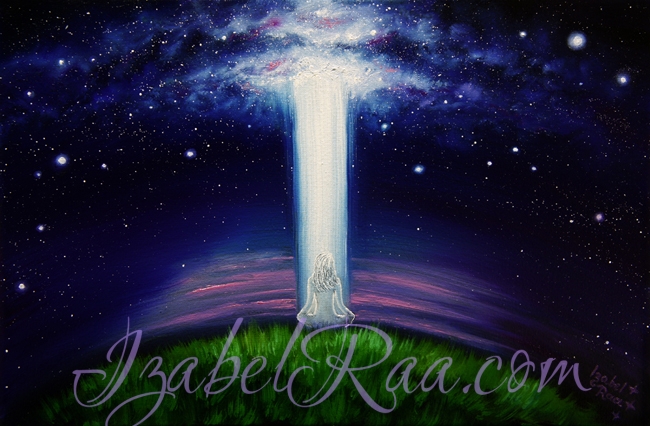 Обе картины всегда рядом со мной, когда я в Москве.. в непосредственной близи от моей кровати. Я практически каждый день медитирую и эти картины очень способствуют приятному настрою на расслабление и погружение в медитативное состояние.
Картина с цветком ассоциируется у меня с Лотосом, который является символом гармонии и любви. Глядя на него я как будто растворяюсь в нежности оттенков и цветов, которые очень люблю.. Лиловый один из моих любимых цветов.
Картина "Связь с Высшими силами" помогает мне как будто взглянуть на себя со стороны, когда я могу отстраниться от всего суетного и посвятить время Богу и красоте Вселенной. Я действительно вижу себя сидящей в позе лотоса среди природы, словно часть Неё. Чувствую прохладные и нежные вибрации от каждой травинки и дерева, созерцаю мироздания, ощущаю себя частью бескрайней Вселенной.
Юлия Пайк, Москва, Россия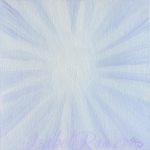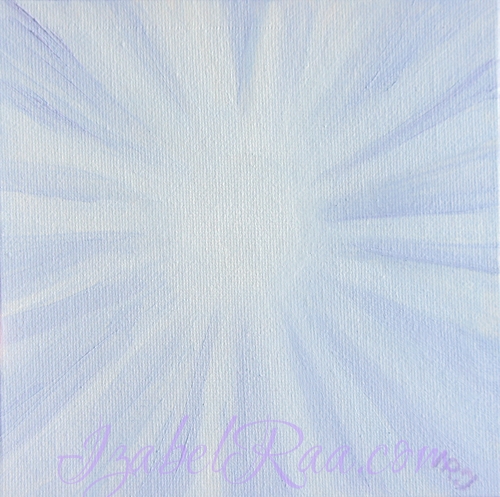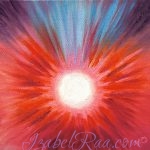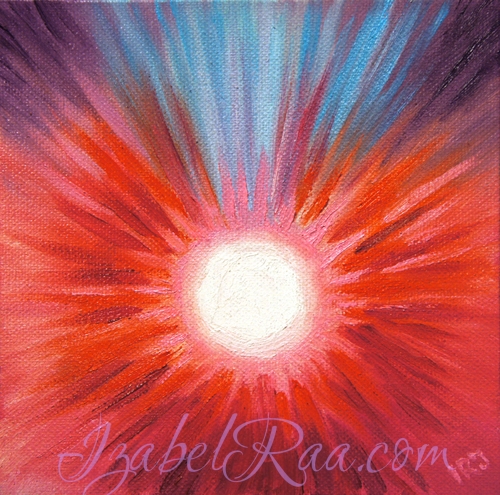 "Izabella ended up making two energy portraits of me. This was something I didn't expect yet it captured my split personality perfectly. Each wouldn't be enough on its own but together they capture the essence perfectly. She really can see people, with each portrait, she really knows what she's painting."
Hanna M., USA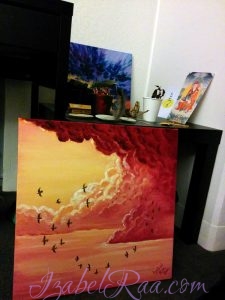 "I first saw Izabel's paintings on her smartphone at a birthday party. The first thing I noticed was the horizon. It was looking at me from all of her pictures. And I was falling in it. It is so deep and it is an essential part of many of her paintings. A mark of vastness and spaciousness.
I'm looking at the painting "The Dance of Love". It is painted in red and pink tones with orange and yellow light. On the top, it has dark pink saturated colors, which gradually dissolve going down clockwise. These colors talk to me about different shades of love, its different modes.
The dark pink signifies to me the love with admixture of attachment and bond – a bond of mother and her kid – which dissolves into lightness, a realization of connectedness to the whole Universe. It speaks of a mother who cares, who protects her kid, and then gradually releases that everything is the Kid and everything is the Mother and the Birth is everywhere, and thus the attachment is dissolved and purified. In this way, the dark saturated pink descends clockwise into the light pastel pink and orange clouds. And with them from above the horizon, a flock of birds circles out – or circles in… And below is the vast space of sky. The way it is depicted here reminds me of the sky seen from a window of an airplane. It makes you realize that the Earth is finite. It is the horizon that is telling you: the Earth is finite. And the sky is still vast, limitless, and spacious. And these two, the Earth and the Sky meet. The two opposites merge: finite and infinite."
Dmytro L, San Francisco, California, USA
Original oil paintings "Night Dream" and Energy Portrait "Shining Star"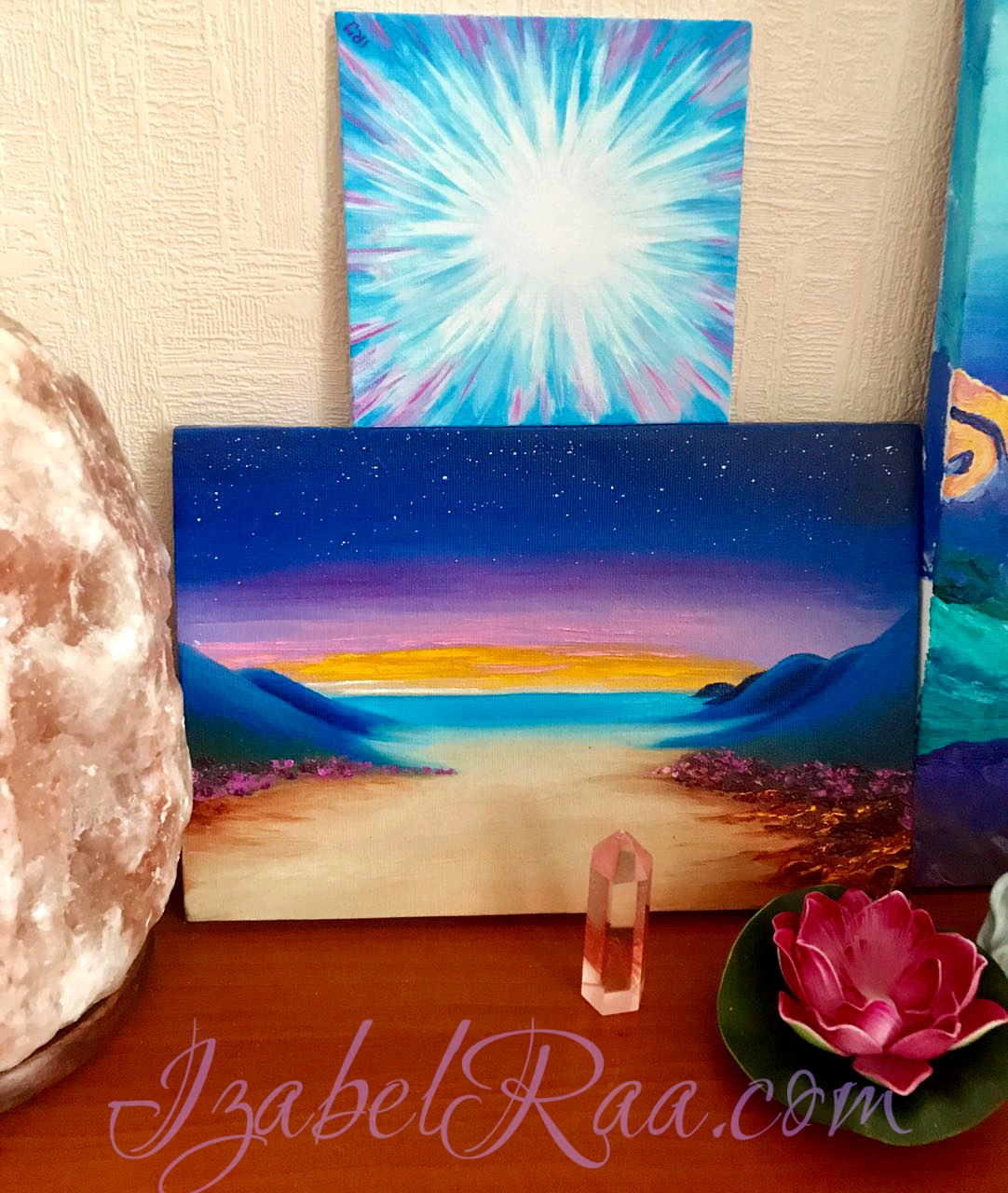 "I want to share a review to the paintings of Izabel's authorship. I have two of them and both are my favorites: my energy portrait and the landscape of the sea coast. Both are in the bedroom surrounded by other dear things and these paintings is the first thing I see in the morning, waking up.
I will describe in more detail the paintings and feelings from them:
1. Energy Portrait. This is a small canvas depicting me as an energy entity. I feel deep resonance with colors and energy that the painting radiates! From the painting there is a flow of cool silvery-blue energy. This painting charges and fills me.
2. Landscape. This painting I like incredibly. The sea, the beach, the starry sky, misty haze in the distance … This is the place where you want to dive and be on this beach with soft sand, sit by the water and listen to the splash of waves … this painting more harmonizes and calms me.
Both paintings stand together, because I wanted to put them next to each other, and now they form a single whole in my space. Thank you very much!"
Ksenia Messing, Moscow, Russia
Хочу поделиться отзывом на картины авторства Изабель. У меня их две и обе любимые: энергетический портрет и пейзаж морского побережья. Обе стоят в спальне в окружении других дорогих вещей и это первое, что я вижу утром, просыпаясь.
Опишу подробнее картины и ощущения от них:
1. Портрет. Это маленький холст с изображением меня как энергетической сущности. Очень резонирует цветовая гамма и то, что излучает картина! Поток от неё идёт прохладной серебристо-голубой энергии. Это картина заряжает, наполняет.
2. Пейзаж. Эта картина мне невероятно понравилась. Море, пляж, звёздное небо, туманная дымка вдалеке…Это то место, куда хочется нырнуть и оказаться на этом пляже с мягким песком, сидеть у воды и слушать плеск волн… эта картина больше гармонизирует и успокаивает.
Обе картины стоят вместе, мне захотелось расположить их рядом, и теперь они образуют единое целое в моем пространстве. Благодарю!
Ксения Мессинг, Москва, Россия
"This painting emanates powerful energy that nourishes me when I need it. It also helps me attune with the power of the Sun, even on the cold rainy days, when the actual sun is not visible. A very bright, cheerful and positive painting that lights up my room!"
Hanna K., San Jose, California, USA
"You sit and work … then you raise your eyes, and there … the sea, the sunset … beauty .. vacation … you lower your eyes and continue to work, but feel already more cheerful and more joyful :))"
Dmitriy Kopanev, Moscow, Russia
"Сидишь, работаешь… поднимаешь глаза, а там… море, закат… красота.. отпуск… опускаешь глаза и продолжаешь работать, но уже как-то веселее… радостнее :))"
Дмитрий Копанев, Москва, Россия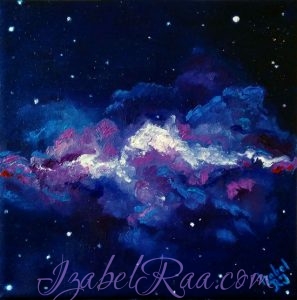 "For me it's a look at my world. I'm looking at this painting and see a part of myself. It is difficult for me to convey all these feelings."
Eugene, Madrid, Spain
"I like colors: the sky, the sunflower like the sun and blue background. The painting is very dynamic, as if in motion. The radiance of life in motion. And the flower bud seems to be about to open, too."
Anton B., San Francisco, California, USA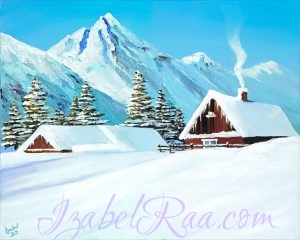 "The winter painting was a bliss for me when there was no snow outside in winter time and only mud and slush. And when I was looking at that painting it was like to get a lungful of fresh frosty air. It is like the dazzling snow whiteness outside and crystal clear mountain air, and in the house – a fireplace is burning, cozy and warm. The hosts settled at the fireplace on animal skins, they are drinking tasty tea and telling the children different interesting stories."
Glafira U., Moscow, Russia
Зимняя картина – это для меня был кайф, когда у нас почти не было зимой снега и одна грязь и слякоть. А на картину посмотрю – и как будто вдохнула полной грудью свежего морозного воздуха. На улице – ослепительная снежная белизна и кристально-чистый горный воздух, а в доме – топится камин, уютно и тепло. Хозяева расположились у очага на звериных шкурах, пьют неторопливо чай и рассказывают детям разные интересные истории.
Глафира У., Москва, Россия

"The painting with a flying fish is like a fairy tale about a sea king, and that fish serves him to communicate with the underwater kingdom.
She wants to fly straight into the sunny sky, but it's impossible to leave the rainbow beauty of the water space. And the fish flies, and her tiny heart sings with happiness, from an exciting flight, from the incomparable beauty of the underwater world."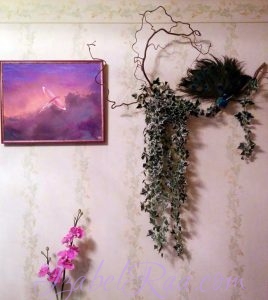 Glafira U., Moscow, Russia
Картина с летучей рыбкой – это словно сказка про морского царя, у которого рыбка служит для общения с подводным царством. Хочется ей улететь прямо в солнечное небо, но невозможно расстаться с радужной красотой водных просторов. И летает рыбка , и поёт её крохотное сердечко от счастья, от захватывающего полёта, от несравненной красоты подводного мира.
Глафира У., Москва, Россия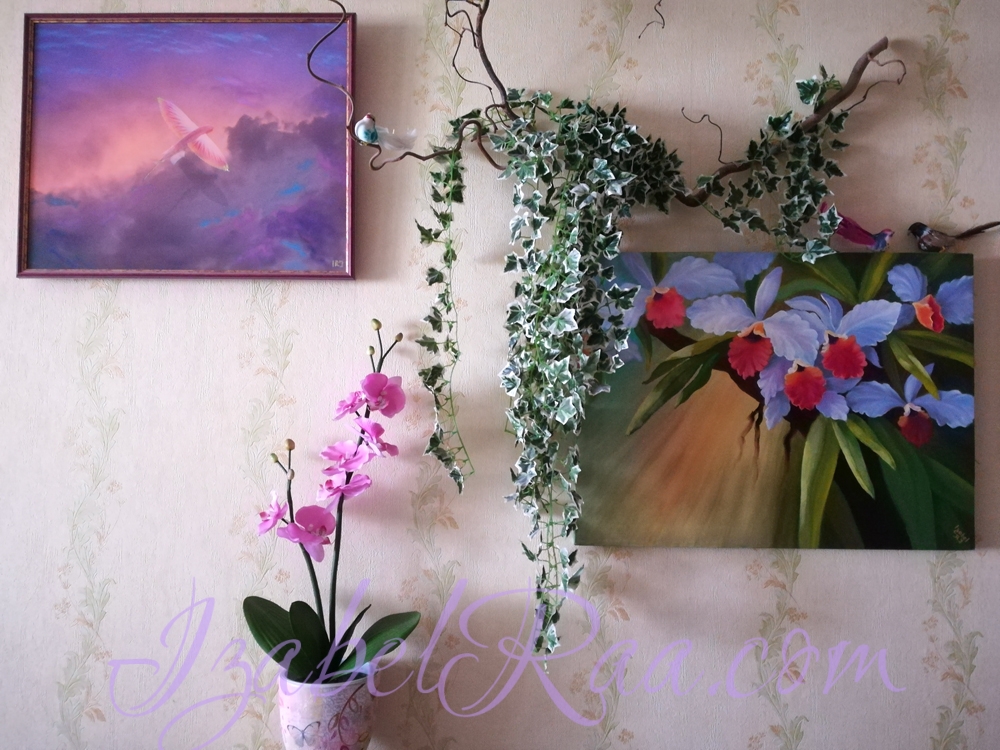 "The painting with orchids is shining and glowing with positivity and wonderful mood! Flowers seem to say: look how pure, gentle and beautiful we are! In this painting, every flower is pleasing to the eye, every petal is permeated with clean air and sunlight. The orchids here are so beautiful that one wants to plunge headlong into this fairy tale, feel the fragrance of greenery and flowers, dissolve in this transparent unreal world. The painting has been created with such love and feeling every brushstroke, and, despite the oil strokes, the flower petals seem airy, like clouds in the sky, and the sun's rays in the background give warmth, light and hope, and an overwhelming life, saturated with beauty, silence and love."
Glafira U., Moscow, Russia
"Картина Орхидеи ("Песня Радости") так вся и светится позитивом и чудесным настроением! Здесь орхидеи словно говорят: посмотрите, как мы чисты, нежны и красивы! На этой картине радует глаз каждый цветок, каждый лепесток, пронизанный чистым воздухом и солнечным светом. Орхидеи здесь настолько прекрасны, что так и хочется окунуться с головой в эту сказку, почувствовать аромат зелени и цветов, раствориться в этом прозрачном нереальном мире. С какой любовью и чувством на картине выписан каждый штрих, и, несмотря на мазки маслом, лепестки цветов кажутся воздушными, словно облака в небе, а солнечные лучи на заднем плане дарят тепло, свет и надежду. И всепоглощающую жизнь, пропитанную красотой, тишиной и любовью."
Глафира У., Москва, Россия
Original oil painting "Forest"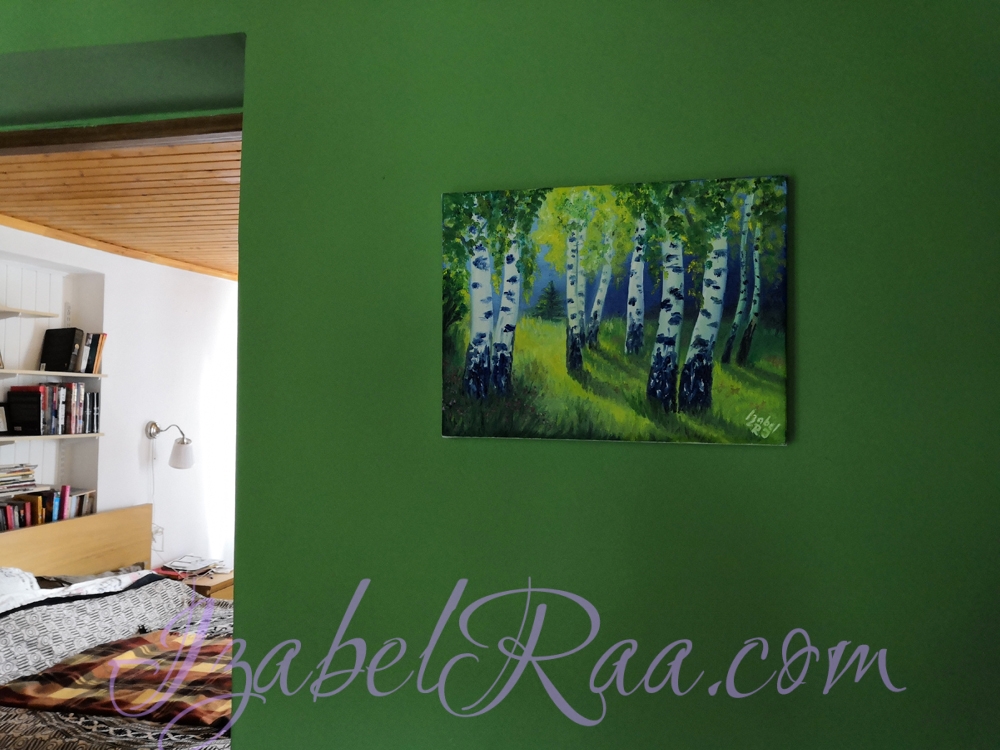 "The painting with the image of a birch grove gives a positive energy. In the summer, when you look at it, it plunges you into the forest coolness. In the winter, it reminds you of the soft rustle of leaves, songs of birds, and you can feel that the summer is already around the corner …"
Valentina B., Moscow, Russia
Картина с изображением березовой рощи дарит позитив. Летом, взглянув на нее, тянет окунуться в лесную прохладу. Зимой она напомнит о мягком шелесте листвы, птичьем пенье, подумаешь, что и лето уже не за горами…
Валентина Б., Москва, Россия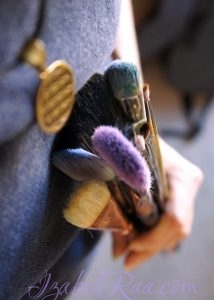 "Izabel is a Painter and Muse for meditation, healing, creative inspiration, and custom spiritual portraits. As an experienced world traveler, she's a spiritual travel agent, as she's been to many exotic, little-known-about places and spaces, and can recommend where to go and how to experience them best, as the physical embodiment to the mental space that you're likely seeking, that you may sometimes refer to as "Source" during meditation or deep reflection. That's how she identifies the lay lines of psychic energy on the earth and what to do while there. She also does crystal healing and can teach people how to feel crystals, and what crystals work for them."
Jeff, Los Angeles, California, USA